King County Metro Job Access Reverse Commute (JARC) Transportation Program Ridematch Service Information
How-To for Case Managers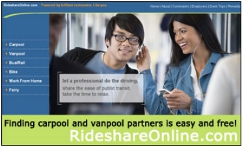 Attention Community and Social Service Staff Members who provide case management assistance or other services to individual clients:
RideshareOnline.com, free ridematching, and Metro Rideshare Operations serve your clients who need transportation options for traveling to training or jobs. Carpooling and Metro Commuter Vans like vanpools are excellent options for many people. Not limited to just "Jobs Access" program clients, these services work with and for each client to:
identify possible pool partners (people to ride with).
help form carpool or vanpool arrangements.
provide follow-up to help clients access any other eligible services and transportation benefits from their employers and Metro.
RideshareOnline.com, the easy way to find and ride (or drive) with someone else, is the cornerstone to this effort. This free service is the best way to identify carpool and Commuter Van partners for your clients.
RideshareOnline.com is both a computerized ridematching system and service that helps commuters form and maintain carpools and Commuter vans. The regional Ridematch system, housed at King County Metro and throughout the state and in Idaho and Oregon, contains the names of thousands of residents. The system matches commuting characteristics (home area, work/school location, work/school schedules, etc.) and provides individual clients with lists of potential ridesharing partners, along with other useful transportation information.
You can help your clients carpool or by:
encouraging them to consider car and commuter van vanpooling
helping them access RideshareOnline.com, or
helping them fully complete and submit a quick Ridematch application, or call King County Metro Rideshare office at 206-625-4500, 1-800-427-8249 or TTY 206-684-1855, and a Rideshare staff person will be glad to work with your client or you and take the application over the phone. Metro also provides language bank service.