King County Park & Ride Lot Information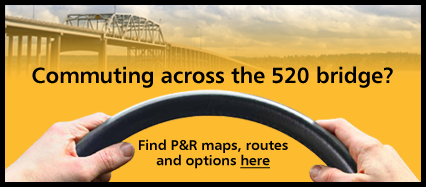 For a list of park & ride lots and transit centers with routes that service them, select the area in which you are interested.
Park & Ride Lot Rider Alerts
Read about King County Metro's Plug-and-Ride Program. If you see this icon
on a Park-and-Ride page, that means there is an electric vehicle recharging station on site.
Prepared for Emergencies?
Snow, floods... before an emergency hits, use this helpful commuter checklist [.pdf] to get prepared.
King County Metro Park & Ride expansion program