Bikes, buses and safety
Bike and Buses: Sharing the Road
Bikes and buses are both part of the solution for reducing traffic congestion and improving our environment. Please take a few minutes to watch the videos below for some basic tips on how bikes and buses can coexist effectively.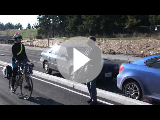 New Bicycle Facilities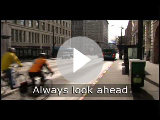 Passing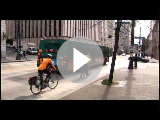 Turning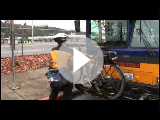 Loading Your Bike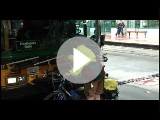 Be Predictable
How to Video on Website by VideoLightBox.com v1.11
Tips for cyclists to stay safe around buses:
1. Never pass a bus on the right! It is never safe for a cyclist to pass a bus on the right side when the bus is in the right lane.
2. Don't play "leapfrog" with a bus. When a bus and cyclist are going about the same speed, bikers should not pass a bus if they think they're not going to stay ahead of it. Buses should not pass a cyclist if he/she is maintaining a reasonable speed and will probably stay ahead of the bus.
3. Be predictable. Don't weave in and out of traffic, or jump from the street to the sidewalk and back again. Signal your intentions to turn or stop.