Dept. of Transportation
Metro Transit Division

King Street Center
201 S Jackson St
Seattle, WA 98104
Waterfront Streetcar Line
Metro Route 99
Route 99 is a free bus route that connects the downtown Seattle waterfront with the International District, Pioneer Square, the downtown retail area, Pike Place Market and Belltown.
It was formerly called the Route 99 Waterfront Streetcar Line, and used buses that were "wrapped" to resemble the George Benson Waterfront Streetcars that previously operated along the waterfront.
Changes were made to Route 99 in February 2011 as part of the effort to keep people moving during the six-to-eight-year construction period for the Alaskan Way Viaduct and Seawall Replacement Project.
Northbound service on Route 99 shifted from Alaskan Way to First Avenue. Southbound service continues to operate on Alaskan Way from Broad Street to Yesler Way.
The new routing provides improved connections between the waterfront and First Avenue, and offers a handy circulation option for people traveling north on First Avenue.
About the Waterfront Streetcar Line
Metro's green and yellow waterfront streetcars used to run on a track along Alaskan Way and part of S. Main Street. The streetcars were powered by electricity. They were built in Australia for the Melborne and Metropolitan Tramways Board between 1925 and 1930. The cars are double end, double truck, and designed for two-person operation.
Manufacturer: Melborne shops or James Moore
Fleet Numbers: 272, 482, 512, 518, 605
Seats: 43 passengers
Length: 48 feet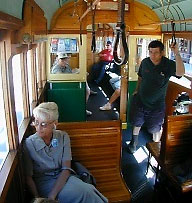 Two of the 1928 Australian streetcars began service along Elliott Bay between Pier 70 and Main Street in 1982. Three more streetcars joined the fleet between 1990 and 1993 when Metro extended the line to the International District. The streetcars featured Tasmanian mahogany and white ash woodwork, capturing the elegance of travel in a bygone era.
The waterfront streetcar line is named after George Benson, former City of Seattle and Metro Council member. Known as the "father of the Waterfront Streetcar," Benson was the driving force behind development of the historic streetcar line.
In commemoration of Benson's leadership and vision, the streetcar line was officially named the George Benson Waterfront Streetcar Line on June 1, 2002.
George Benson, the "father" of Metro's waterfront streetcar

Transportation has always been close to the heart of George Benson. As a Seattle City Councilmember from 1974 to 1993, and a member of the old Metro Council, Benson took the lead on ensuring countywide bus service, construction of the Downtown Seattle Bus Tunnel, and preservation of the Monorail.  But of all his projects, Benson is most closely associated with Metro's Waterfront Streetcar. It began with his dream to reinstate the historic streetcar line.
The Streetcar Stations
Since the George Benson Line Waterfront Streetcar vintage trolley service has been suspended, these stations are currently not in use.
Metro is providing replacement service with free service on the Route 99. Bus routing and stop locations do not exactly duplicate the Streetcar, however Route 99 serves the same neighborhoods - the Waterfront, Pioneer Square and Chinatown/International District.
Jackson Street Station
Chinatown/International District
Wing Luke Asian Museum
Uwajimaya Asian Superstore
Safeco Field
Qwest Stadium
Occidental Park Station
Pioneer Square
Underground Tour
Klondike Gold Rush Museum
Kingdome Sports Arena
Shops, pubs, and restaurants
Washington Street Station
Pioneer Square
Antiques
Princess Marguerite to Victoria
Madison Street Station
Waterfront Piers 48-55
Washington State Ferry Terminal (Bremerton & Bainbridge Island)
Seattle's colorful fireboats
Ye Olde Curiosity Shop, est. 1899
Pier 54 Water Adventures
University Street Station
Waterfront Piers 56-57
Bay Pavillion restaurants and shops
Argosy Cruises
Tillicum Village Tours
Harbor Steps to downtown Seattle
Pike Street Station
Waterfront Pier 59
Hillclimb Steps to Pike Place Market and downtown Seattle
Waterfront Park
Seattle Aquarium
Omnidome
Bell Street Station
Waterfront Pier 66
Pedestrian overpass
Bell Street Pier, Public Marina and Conference Center
Restaurants
Belltown
Vine Street Station
Waterfront Piers 67-69
Port of Seattle offices
Edgewater Inn
Victoria Clipper
Broad Street Station
Waterfront Pier 70
Myrtle Edwards Park
Seattle Center (5 blocks)
Pier 70 restaurants and shops
Spirit of Puget Sound Harbor Cruises