Study report
May 27, 2011
Metro's 159 electric trolley buses are scheduled to be replaced in 2014. Before purchasing new buses, an in-depth, evaluation of vehicle options was conducted to determine relative costs, limitations, environmental impacts, and benefits. The findings from this evaluation will inform the technology decision for replacement of the trolley buses.
Final report:
Project Overview
Metro to study possible alternatives for aging electric trolley buses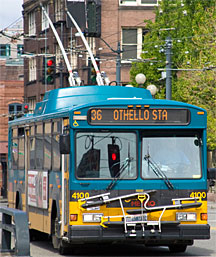 Project Details
The trolley evaluation scope, work plan, and timeline were sent to the County Council on Aug. 26.
Learn more
...
King County Metro Transit has a fleet of 159 electric trolley buses that run along nearly 70 miles of overhead wire in Seattle. These buses are reaching the end of their useful lives, and Metro may need to order replacement buses before the end of 2012.
Before doing that, Metro has been directed by the Metropolitan King County Council to study potential alternative bus-propulsion technologies in order to evaluate and compare their costs, limitations, and benefits. The goal is to evaluate several factors to ensure the best overall value for the region.
This in-depth study will be limited to the current 14-route trolley system, with some variations as appropriate for each technology. The study findings will help the county make an informed decision about the best vehicle technology to use on these routes as the current trolley buses wear out.
Questions and Answers
» Questions and Answers handout
Community involvement

Community Involvement Timeline
Metro kicked off the first phase of public outreach for the Trolley Bus System Evaluation on June 22, 2010 with a community open house, which was followed by a series of presentations to neighborhood groups. Thanks to all who participated in these meetings or sent in written comments. Community input played an important role in shaping the scope of the study.
In fall 2010, Metro and the consultant team began the technical evaluation. Once draft results are available in the first quarter of 2011, Metro will launch another phase of community outreach to gather input on the study.
The final evaluation will be sent to the County Council in spring 2011 to inform their biennial budget process. During this process, the Council will make the final decision about which type of bus to purchase to replace the current trolley buses.
Contact us
For more information, please visit the project details page or contact:
Ashley DeForest, Community Relations Planner
206-684-1154
ashley.deforest@kingcounty.gov.