Service change report, ridership news, and a look at what's ahead
December 7, 2012
Two months have passed since Metro's landmark fall service change. Here's an initial report on the results — plus ridership news and a peek at what's ahead.
After the Ride Free Area in downtown Seattle ended, customers and bus drivers adjusted quickly to the change. Buses typically are taking a couple of minutes longer to move through downtown and the transit tunnel — as we expected. We're also seeing some time savings from riders no longer having to pay as they exit, so the overall impact on service hasn't been significant.
The City of Seattle's free shuttle service for people who are homeless or have low incomes is serving about 200 riders a day and growing steadily. King County has boosted funding this fall for our program that provides deeply discounted bus tickets to human services agencies. The County Council allocated $250,000 for tickets and $200,000 was donated through the free bus ticket program set up when the congestion reduction charge was approved. King County and the City of Seattle have provided a total of $2.9 million worth of tickets to human service agencies in 2012.
The unprecedented restructure of about 50 bus routes in Seattle and nearby communities meant a lot of changes for our customers. It's too early to have reliable data, but based on our field observations and customer comments, it appears that the new and revised routes are attracting solid ridership and giving people connections they like.
We know that some customers are unhappy about changes to their service. The restructure was based on our new service guidelines and was designed to put service where it's needed the most. While we wish we could make every Metro customer happy, we're confident that over time, more people will benefit from better connections to more places.
We made several adjustments in the first few weeks to address unexpected conditions, including changing some Eastside express routes to ease overcrowding, and making some routing revisions in downtown Seattle to prevent delays. We'll make additional modifications as part of our regular February service revision.
Following the launch of the RapidRide C and D lines, ridership is up considerably on those corridors. In October, the C Line had an average of 6,200 weekday boardings, which compares most closely to 5,100 boardings on Route 54 last spring. The D Line's weekday average was 8,300 boardings, which likely includes 5,000 daily boardings shifted from the discontinued Route 15, plus growth and some riders from other routes.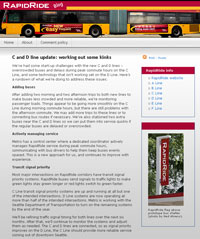 While we're pleased with the boost in ridership, buses unfortunately have often been overcrowded or delayed during peak commute periods, especially on the C Line. We added buses in the first few weeks to reduce crowding and improve reliability, and we're working hard to complete some unfinished stations, improve the accuracy of bus arrival signs, and activate transit signal priority systems at remaining intersections. For details, read a report we prepared for riders
We continue to closely monitor performance and listen to our customers. We posted an online survey, and last week some Metro staff members went out to C Line stops to gather comments from morning commuters. We appreciate the suggestions we're hearing — and I'm glad that many people are telling us they like the frequency, off-board fare payment and other aspects of RapidRide. As we get the start-up problems ironed out and service improves, I expect the C and D lines will grow in popularity, as the A and B lines did.
Meanwhile, our systemwide ridership continues to grow. The preliminary count for October was an average 400,000 passenger trips per day, a milestone last achieved in October 2008, just before the Great Recession caused ridership to drop. We expect that 2012 ridership will be about 2.5 percent higher than last year and will be close to the ridership record we set in 2008. An improving economy and stronger employment will bring us more customers. The bad news is that Metro's financial situation doesn't enable us to grow and meet this demand. We are entering our fifth straight year of budget austerity.
Our recently approved 2013-2014 budget is again constrained and relies on funding from the congestion reduction charge (CRC) to keep the system stable through mid-2014. However, if our inadequate financing structure is not improved by the time the CRC expires, Metro will again face a revenue shortfall that will force service reductions. The budget assumes that cuts would begin in fall 2014, followed by major reductions throughout 2015.
County leaders are working hard to avert that scenario. In advance of the legislative session, they are advocating for a transportation package that provides stable funding for transit and other needs. Time is growing short, and action on a statewide package is critical.
Adding to the pressure for a solution, Alaskan Way Viaduct mitigation dollars for transit will run out in February 2014. This funding from the Washington State Department of Transportation is supporting increased bus service in corridors affected by construction. Ridership on these corridors is up by more than 20 percent, demonstrating that commuters will increasingly choose transit as an alternative to negotiating heavy traffic. The loss of the mitigation service, combined with ongoing construction and the start of tolling that will divert vehicles to city streets, could spell gridlock in the economic heart of the Puget Sound region.
Over the next year I'll keep you updated about these issues and other news, such as the upcoming review and potential revision of our service guidelines and a report we'll be preparing on potential fare changes.
In the meantime, have safe and happy holidays!
Sincerely,
Kevin Desmond, General Manager
King County Metro Transit
Rob Gannon
General Manager, King County Metro Transit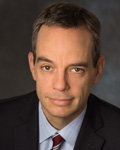 If you live in King county, Metro is your public transportation system. I want you to know about our performance and the innovative service improvements we're bringing your way.
Visit here often to read my newsletter, or sign up to receive it by e-mail.
Related