Service increases will benefit bus riders countywide
May 5, 2015
I'm very pleased that Metro will be increasing service on 54 suburban bus routes across King County starting this fall, as announced last week by County Executive Dow Constantine and Seattle Mayor Ed Murray. A combination of recent cost savings, revenue gains, a grant and Seattle's Regional Partnership Fund are enabling us to add 69,000 annual service hours to bus routes serving 27 suburban cities. Many of these routes serve Seattle as well.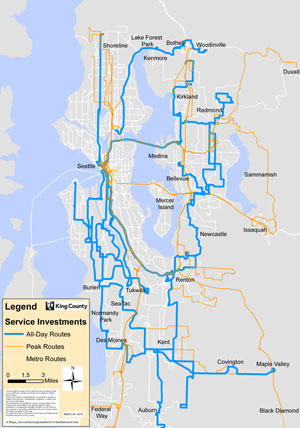 The service investments will focus on reducing passenger crowding and improving reliability on Metro's busiest suburban routes, consistent with the priorities in our County Council-adopted service guidelines.
We'll also be able to continue some well-used service in the Kent area that would have been cut when grant funding expires this year.
The increases are much needed. King County's economy is growing, and more and more people are taking transit. Many Metro buses have become chronically overcrowded and late as a result.
That's why we're taking advantage of partnership opportunities and recent financial improvements—some temporary—to fund critical transit needs today. We're accelerating service investments that had been planned for 2018.
Up to $89 million in funding for the additional service and buses will come from a variety of sources:
In 2014, our ongoing efforts to control costs saved Metro $23 million that we can plow into service.
Fuel prices are staying lower than expected, freeing up $21 million for service through 2017.
Sales tax revenue is expected to be as much as $26.7 million higher in 2015-2016 than projected earlier.
Additional fare revenue from our growing ridership, plus unused Transit Now partnership service hours, will generate $9.8 million.
The Seattle transit funding ballot measure that passed last year included a Regional Partnership Fund. We're using this innovative mechanism to partner with Seattle, matching the city's $6.4 million investment in bus routes that travel between suburbs and Seattle.
Pending state legislative approval, we're in line to receive a $2.5 million Regional Mobility Grant to improve our service in the SR-522 and I-5 south corridors over the next four years.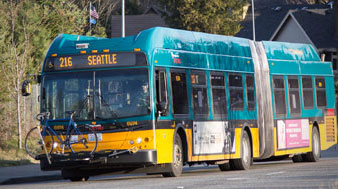 We'll phase in the suburban service increases to give us time to bring on new drivers and buses. We plan to add roughly one-third of the new service hours in September 2015, with the rest in March 2016, pending the availability of drivers and fleet.
These new suburban transit investments will complement the 10 percent increase in Seattle service coming this June and September, with funding approved by the city's voters last fall.
We still have a long way to go to meet King County's growing demand for transit—and right now we're engaging the public in our long-range planning process to set the stage for moving more people in the future. In the meantime, we're thrilled to have these opportunities to deliver more and better service across the county.
Sincerely,
Kevin Desmond, General Manager
King County Metro Transit
Kevin Desmond
General Manager, King County Metro Transit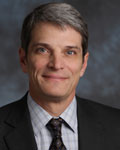 If you live in King County, Metro is your public transit system. I want you to know about our performance, the issues we face, and the innovations we are bringing your way.
Visit here often to read my newsletter, or sign up to receive it by e-mail.
Related