Error processing SSI file
Info for Travelers
We can get you there
Metro and Sound Transit have 700 daily bus trips, incentives for carpools and vanpools and help for people who want to work at home so you can minimize the amount of tolls you need to pay to get across Lake Washington. Watch video: Skip the 520 tolls & ride with Metro [2:18]
Travel Options for You: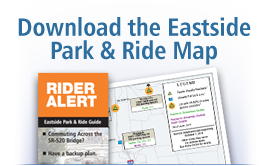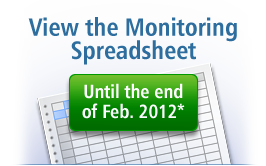 *Metro started monitoring select Eastside Park & Rides for usage beginning the week of December 12, 2011. This will continue until about the end of February, 2012. Use this spreadsheet to determine which park & rides will likely be full to plan for a smooth trip across the bridge during tolling.
Do you use SR 520? New bus service makes better connections on both sides of Lake Washington. Metro recently added 130 new bus trips across SR 520, for a total of more than 700 trips on 18 Metro and Sound Transit routes crossing the bridge every weekday! More buses mean more alternatives to driving and paying tolls.
Ride toll-free or split the tolls in a vanpool or carpool.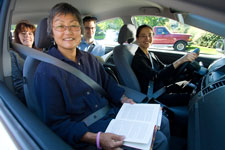 Join a vanpool and ride toll-free or split the tolls when you ride in a carpool. Learn about the rewards available for new and current carpoolers and vanpoolers who travel on SR-520. Riding in a carpool or vanpool is a cost effective and convenient way for you to reduce your out-of pocket costs and take advantage of the time-savings offered by the high-occupancy lanes on SR-520. Find a transit agency sponsored vanpool, or regular carpool going your way at RideshareOnline.com. If your schedule requires more flexibility then sign up at go520.avego.com, a real-time ridesharing program for SR-520 commuters.
Vanpool Seat Finder
Look for a 520 toll-exempt vanpool:
Enter your home and work zip code to see the complete list. Then, sign-up at RideshareOnline.com to view custom lists.
Add more rewards to your ride.
As you are busy counting the money your carpool or vanpool saves you in tolls, allow us to offer these additional rewards!
For New Vanpool and Vanshare
Form a new King County Metro Commuter Van and get the following rewards (in addition to less stress, no tolls and new friends):
Drivers, bookkeepers and riders in new Metro vans each receive a $50 gift card (effective Jan. 1, 2012).
Call 206-625-4500 or send an e-mail for details
For All Vanpoolers & Carpoolers
Win a $50 gift card. How?
Track at least 7 commute days each month using the commute calendar on RideshareOnline.com and be entered in a drawing.  Each month we'll draw 50 winners for a $50 gift card (effective Jan. 1, 2012).
Get started today at Rideshareonline.com or call 206-625-4500
We'll help your boss help you get to work.
Interested in trying the bus or a vanpool for commuting to work, but want your employer to help you with the cost? Want to work from home but your employer is not so sure about the idea? Metro has a range of programs to help your boss help you get to work. And they don't all cost money. Check it out:
Why not tell your employer about these opportunities? Pass along this flyer to your boss and get them started cutting your commute costs today!
You don't always have to be there, to be there!
The benefits of teleworking, coworking, compressed work weeks and alternate schedules are many: you can save money on travel costs, eliminate commute time and improve your work-life balance.
Your company doesn't have a telework program? Get them on board! We offer free assistance from expert telework consultants to create or expand telework programs. Learn more about what your company can do to support telework
What is coworking? If you have permission to telework and want to feel part of a community or experience the motivation that comes from working with people, coworking can be a great solution. Local coworking spaces enable individuals to stay closer to home, have access to equipment, but still have a vibrant, social office environment that enhances productivity.
Are you a coworking space interested in offering a promotion to help commuters cope with SR 520 tolling and viaduct construction? Contact us and we'll add your offer to the list.
Take your bike across 520.
Biking and using transit work great together. Bike to a bus stop or park-and-ride lot and lock up your bike in our racks or lockers. Or, take your bike across the lake by bus or vanpool to continue your trip. Every bus has a bike rack and King County Metro vanpools can request bike racks at no charge. Check out the Rider guide to bikes on Metro Transit and be sure to learn about more service for bikes on SR 520.
Error processing SSI file
Common Questions
Tolling on the SR 520 Bridge will help pay for the new bridge, targeted to open in 2014. The new bridge is designed to withstand major earthquakes and windstorms, providing increased safety. When complete, it will include six lanes with two general purpose lanes and one carpool/transit lane in each direction. The new SR 520 Bridge will have HOV lanes that will make bus trips more frequent and reliable. It will also be built to accommodate light rail in the future, have a pedestrian and bike path, and shoulder lanes to keep traffic flowing in the event of a vehicle breakdown.
There are two rates: a lower toll rate for vehicles with Good To Go! accounts, and a higher rate for vehicles that receive a bill and Pay By Mail. Toll rates vary by time of day and on weekends to encourage driving during less-congested periods.

SR 520 Bridge toll rate schedule »
Have more questions about SR 520 tolling? Check out the FAQ on the Washington State DOT site for the most up-to-date information.