I-90 Integrated Transit Service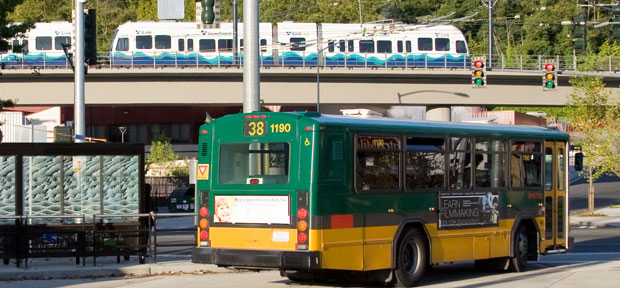 Starting in 2023, Sound Transit's East Link light rail extension will connect Seattle and Mercer Island with major population and employment centers on the Eastside, including Bellevue, Bel-Red, and Redmond.
Today, Metro and Sound Transit are working together to plan the integration of buses and light rail into an efficient transit system for riders. Bus and light rail service will connect at regional transit hubs, including the future Mercer Island and South Bellevue light rail stations. Riders will transfer from buses to Link to continue their trips to downtown Seattle, and from Link to buses to reach Eastside destinations not served directly by light rail.
You're invited to learn more about these plans and comment on them at a community open house (see details below).
Come to an open house
Tuesday, August 12, 2014
6:00 p.m. – 8 p.m. (Presentation begins at 7 p.m.)
Hilton Garden Inn
1800 NW Gilman Boulevard, Issaquah
To get there by transit: Metro Route 214 and Sound Transit Route 554 stop at the Issaquah Transit Center, which is about one third of a mile south of the Hilton Garden Inn.
Share your thoughts
Tell King County Metro and Sound Transit what you think.
Contact us
Tristan Cook
Community Relations Planner
Send an email or call 206-477-3842
Stay informed
Follow our blog for regular updates.
Español
Información importante sobre el servicio de autobuses de su zona. Para solicitar esta información en español, sírvase llamar al 206-263-9988 o envíe un mensaje de correo electrónico.