Community Sounding Board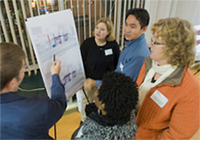 Metro formed a community sounding board in August 2010 to provide advice about public outreach and about which changes to bus service would be best for local communities.
The sounding board is meeting four times this fall and will reconvene next January for an additional three or four meetings. All sounding board meetings will be held from 6:30 to 8:30 p.m. at Bellevue City Hall, 450 110th Ave. NE in Bellevue.
The sounding board's members reflect diverse ages, income levels, ethnic backgrounds, neighborhoods, and transit needs—including those of people with disabilities