What's New?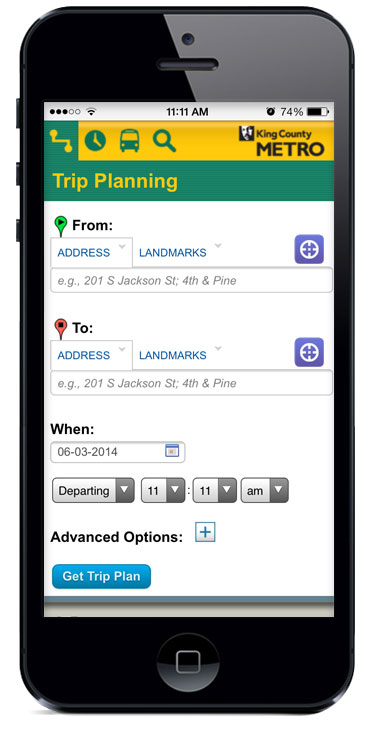 Metro's updated Trip Planner is now mobile friendly!
Our mobile Trip Planner provides tools to help you plan your transit trip easier, faster and more accurately using your mobile device.
Whether using the mobile version or desktop version, you can find maps, schedules, stops, next departures and information about your transit service for trips around the region.
Tell us what you think
After using the new Trip Planner head back here and click on the feedback button to send us your thoughts, comments and suggestions. We value your feedback! It helps us to know what we're doing right, what we can improve, and how we can take transit trip planning to new levels!
Desktop | Mobile | Help Section
New Features
Plan a trip by typing in an address, choosing a landmark or clicking a point on a map.
Multiple modes of travel can be included (such as, Local & Express Bus, Rapid Transit, Water Taxi and Rail.
Find out the next departure times for a specified stop.
Display and print a route schedule for a specific day.
View stops and route maps on the interactive map.
Quickly find your way to/from landmarks in the region.