Thank your driver!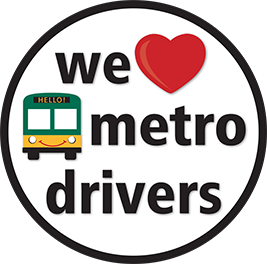 Consider this…
Transit drivers do it all! For hours on end, they navigate tough traffic, help passengers get where they need to go, and do it all safely and with a smile. And they're in demand—a key part of why the Seattle metro area leads the country in transit ridership growth. King County transit and rail operators carried more than 150 million riders in King County in 2016 for Metro and Sound Transit, and Metro Transit carries about 400,000 riders each weekday.
Transit drivers don't have an easy job, they just make it look that way.
We're celebrating with riders and commuters Friday, March 17 (the official international date is Saturday, March 18).
King County Executive Dow Constantine and transit riders across the county celebrate the contributions of our hard-working bus drivers, Access drivers and rail operators. Please take a moment to thank your driver—something as simple as a smile and a wave when you board the bus or train, and a "thank you" when you leave.
Help us spread the word!
Please share this site with your friends, family and co-workers using these links. For social media you can use hashtags #tdad and #metrosmiles.