Info for Travelers
We can get you there
Metro has added new bus trips, new incentives for carpools and vanpools and new help for people who want to work at home so you can minimize your encounters with construction congestion.
Travel Options for You:
Bus service north and south of the Alaska Way Viaduct has increased by 92 trips a day (about 5000 seats) since 2010. So you have more Metro service to move you through construction.
Save time and money in a vanpool or carpool.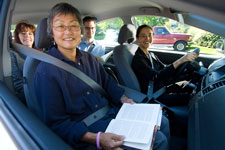 Join a vanpool or carpool and save. Learn about the rewards available for new and current carpoolers and vanpoolers. You can cut your driving expenses by at least half, you'll gain access to HOV lanes and your employer might even reserve the best parking spots for those who drive together. Find a transit agency sponsored vanpool, or regular carpool going your way at RideshareOnline.com.
Add more rewards to your ride.
As you are busy counting the money your carpool or vanpool saves on cost of commuting you could earn even more $$ with these additional rewards:
For New Vanpool and Vanshare
Form a new King County Metro Commuter Van and get the following rewards (in addition to less stress, no tolls and new friends):
Drivers, bookkeepers and riders in new Metro vans each receive a $77 gift card.
For details, go to our rewards page, call 206-625-4500 or send an e-mail.
For All Vanpoolers & Carpoolers
Win a $77 gift card. How?
Track at least 7 commute days each month using the commute calendar on Rideshareonline.com and be entered in a drawing. Each month we'll draw 77 winners for a $77 gift card.
It's just a click away at Rideshareonline.com or call 206-625-4500
Bypass the West Seattle Bridge by taking the Water Taxi.
The King County Water Taxi offers service on two routes between Pier 50 in downtown Seattle and Vashon Island or West Seattle. It's a hassle-free way to float around the traffic and avoid backups. There is also bus and shuttle service to get you to and from the docks.
West Seattle has shuttles 773 and 775 that run from the Water Taxi dock to the Alaska Junction, Alki and Admiral and back. Check out times and fares at the Water Taxi website. There's also Harbor Avenue and Alki service on Metro routes 37 and 53 (you take your bike on the boat, too).
Get schedule information and more on the water taxi website.
We'll help your boss help you get to work.
Interested in trying the bus or a vanpool for commuting to work, but want your employer to help you with the cost? Want to work from home but your employer is not so sure about the idea? Metro has a range of programs to help your boss help you get to work. And they don't all cost money. Check it out:
Why not tell your employer about these opportunities? Pass along this flyer to your boss and get them started cutting your commute costs today!
You don't always have to be there, to be there!
The benefits of teleworking, coworking, compressed work weeks and alternate schedules are many: you can save money on travel costs, eliminate commute time and improve your work-life balance.
Your company doesn't have a telework program? Get them on board! We offer free assistance from expert telework consultants to create or expand telework programs. Learn more about what your company can do to support telework
What is coworking? If you have permission to telework and want to feel part of a community or experience the motivation that comes from working with people, coworking can be a great solution. Local coworking spaces enable individuals to stay closer to home, have access to equipment, but still have a vibrant, social office environment that enhances productivity.
Are you a coworking space interested in offering a promotion to help commuters cope with SR 520 tolling and viaduct construction? Contact us and we'll add your offer to the list.
Take your bike to work.
Biking to work during viaduct construction could be the quickest way to make your way to or through downtown. Many local groups have biking resources to get you started or assist you if you are a seasoned rider. You could also extend your commute by taking your bike on the bus.
Log your trips, track your savings and earn rewards. By logging your bike trips in the RideShare Trip Calendar, you can quickly see both your financial and environmental savings. Plus, when you track your trips on a regular basis, you qualify to be entered into monthly prize drawings. More on RideshareOnline.com.
Here's a handy map from WSDOT recommending a safe path through construction for bicyclists.
New Bike Bus Rider?
Looking for a new way to get to work? Great tips to get you started are just a click away.
Metro is helping neighborhoods to get In Motion during the viaduct construction.
If you live in one of the neighborhoods listed below, this summer Metro will be launching the "In Motion" program to reward you for trying new ways of getting around.
Programs run 12-16 weeks and reward participants weekly for changing trips. Earn or win free transit fare, local merchant rewards and prizes. Be a part of getting your neighborhood In Motion!
Updates about program launches will be made in June of this year at our In Motion website! Keep checking or send us an email telling us where you live and which program you want to be notified about.
South Park
White Center
West Seattle
Squire Park
Georgetown