State funding for extra service ends in June 2014
Metro is playing a vital role in managing congestion on SR-99 during construction to replace the Alaskan Way Viaduct. Funds provided by the state have allowed us to increase transit service in corridors affected by the project. And it's working. Ridership is up; we're keeping thousands of cars off the road and providing new travel alternatives to thousands of riders.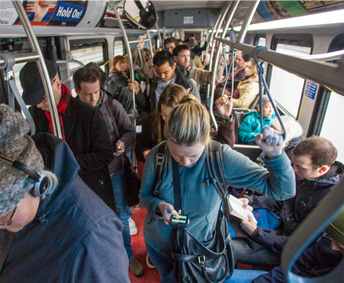 Unfortunately, the transit improvements that are keeping people moving during viaduct construction face an uncertain future.
State mitigation funding for transit runs out in June 2014 — well before work on the new tunnel and waterfront improvements will be completed. Metro is proposing to delete four routes and reduce service on 17 routes in June 2014 to address the loss of mitigation funding from the state. Affected areas include Des Moines, Normandy Park, Burien, Vashon Island, White Center, West Seattle, SODO, downtown Seattle, northwest Seattle, and Shoreline. The result will be a loss of about 150 weekday bus trips and 7,200 daily transit seats, primarily in West Seattle and southwest King County, with additional reductions on weekends. The ripple effects of traffic slowdowns will be felt throughout the region as vehicles divert to Interstate 5 and other arterials to avoid construction delays.
These proposed cuts, if approved by the King County Council, would be made in June 2014.
When funding ends
When state mitigation funding ends next June, Metro will have to cut the extra service we've been providing in the Alaskan Way Viaduct corridor. Check the maps below to see which routes will be affected. To learn how a specific route will change when funding ends, look it up on our proposed changes page.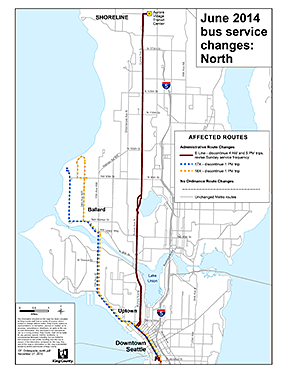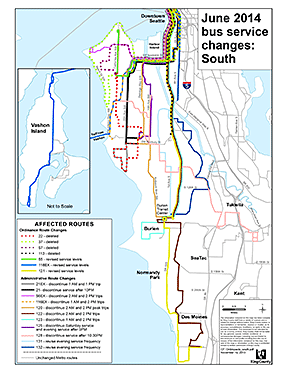 Did you know that...
Special state funding has allowed Metro to increase service in this corridor by about 10 percent since 2010, at a time when overall demand for transit service from communities such as West Seattle, southwest King County and northwest Seattle has grown.
Metro has attracted nearly 33,000 new daily riders (a 42 percent increase) and average daily traffic has decreased by 25,000 vehicles (a 23 percent decline) since we added new service with mitigation funding.
Nearly 50 percent of all people getting onto SR-99 from Columbia Street in downtown Seattle during peak commute times are traveling on buses.
Just a year after their launch, Metro's RapidRide C and D lines are already carrying more than 16,100 daily riders downtown to and from West Seattle, Ballard, and Uptown each weekday.