State funding for extra service extended through 2015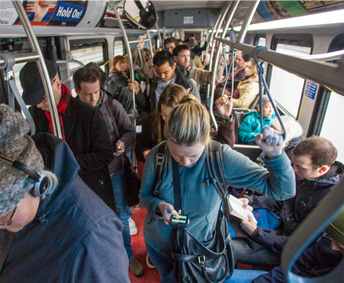 The Washington State Department of Transportation has been paying for extra Metro bus service in areas where traffic is affected by the Alaskan Way Viaduct replacement work. Metro has made investments in service between downtown Seattle and West Seattle, Burien, SODO/Georgetown, Ballard/Magnolia and North Seattle (Aurora).
The contract for this state-funded service, originally set to expire in June 2014, has been extended through 2015. It adds about 150 weekday bus trips and 7,200 daily transit seats to our service on the Alaskan Way Viaduct corridor. The funding also supports weekday commuter service on the West Seattle Water Taxi during winter months.
Background
In 2007, the state of Washington, King County and City of Seattle came to agreement on the first phase of a long-range plan to replace the Alaskan Way Viaduct. The Moving Forward agreement included a $32 million commitment from the state for enhanced transit service and to mitigate traffic impacts of the initial phase of replacement. That agreement was followed by a second agreement in 2009 outlining agency responsibilities for the remainder of the replacement program.
The 2009 agreement called for state legislative authorization of a 1% Motor Vehicle Excise Tax (MVET) for King County to cover $140 million in necessary transit improvements to maintain access and mobility to and through downtown Seattle. The state funded transit improvements from 2010 to 2014, and recently extended that funding through 2015. Further mitigation efforts will be necessary through 2019 to support reconstruction on the waterfront. In addition, tolling in the SR-99 tunnel is likely to begin in 2016, requiring additional transit service to offset traffic diversion to city streets and major corridors such as I-5.
Did you know that...
Special state funding has allowed Metro to increase service in this corridor by about 20 percent since 2010, at a time when overall demand for transit service from communities such as West Seattle, southwest King County and northwest Seattle has grown.
Metro has attracted nearly 33,000 new daily riders (a 42 percent increase) and average daily traffic has decreased by 25,000 vehicles (a 23 percent decline) since we added new service with mitigation funding.
Nearly 50 percent of all people getting onto SR-99 from Columbia Street in downtown Seattle during peak commute times are traveling on buses.