Transit Instruction
Using public transportation can be a challenge for some people. Free training is available to both individuals with disabilities and seniors citizens. Knowledgeable instructors, experienced with the King County Metro Transit and Sound Transit systems, provide the training. Participants travel with an instructor on the bus and/or light rail in King County until they are comfortable and capable of safe independent travel. Self-paced instruction is designed around the needs of each participant as they learn how to safely and independently travel to the destinations of their choice.
Eligible individuals include:
Any individual with a Cognitive, Emotional, or Physical Disability
Any student with an IEP
Senior Citizens
Upon referral, an assessment interview is conducted to determine the participant's skills and abilities related to the use of public transportation. The Transit Instructor then prepares an individualized training plan that accommodates any potential barriers, reinforces any existing skills and introduces any skills the trainee will need to acquire in order to be successful. Safety issues, stranger awareness, street crossing skills, and emergency situations are all important areas covered during training.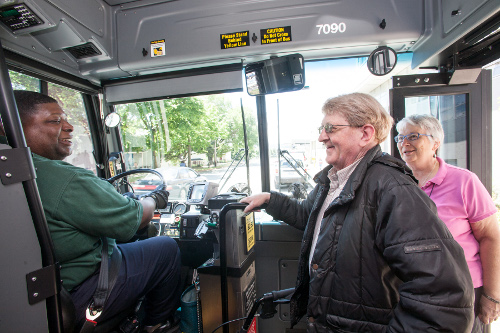 The instructor provides practical experiences by riding public transit with the participant on a daily basis. Training is coordinated with the daily activities of the participant and self-paced, allowing participants to progress at their own rates. Free Transit Instruction is available so that individuals, who may have difficulty utilizing public transportation, can learn how to independently and safely travel, to the destinations of their choice.
You can start your training request by:
We regularly work with participants referred by:
Parents
Teachers
Vocational Agencies
Social Service Agencies
Senior Centers
Senior Housing Facilities
Rehabilitation Programs
Adult Family Homes
Mental Health Facilities
Disability Support Services Offices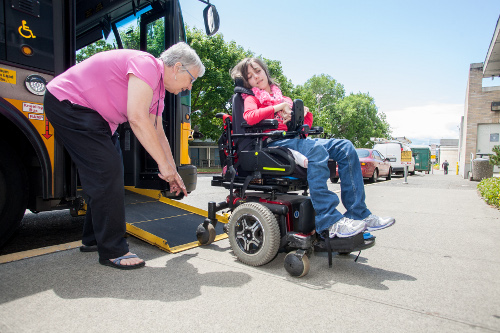 Individual Training: One-on-One training to/from a specific origin and destination
System Training: One-on-One training to learn overall use of the entire bus system using Rider Information Office, bus schedules, On-line Trip Planner, etc.
Ramp Training: Training of an individual using a mobility aid to acclimate them to the boarding and de-boarding process of a fixed-route bus; Training is conducted on an out-of-service, fixed-route bus so that the participant has the opportunity to practice using the lift/ramp numerous times.
Group Training & Field Trips: A classroom style training which is designed to be an introduction to using the bus system; Target populations are High School Special Education programs, Senior Citizen groups and Non-English Speaking groups; Each classroom presentation is followed by a Field Trip to reinforce what was discussed in the classroom
"We have relied on the Transit Instruction program many times to work with and assist our students with their independent Metro needs. We continue to be impressed, amazed and grateful for your services. Your high quality program and staff open doors for our students and their future success."
"This program is amazing!! Thanks!! This is definitely a worthwhile program to have. The instructor was super professional, helpful, very knowledgeable, empathetic to the needs of the individual. Can't say thanks enough!!!"
"I felt great about the bus training. I was nervous at first but then felt great and am now using the bus a lot more... I had a great experience."
"It is a wonderful program that has changed [our son's] life immeasurably for the better."
"This is an excellent program. My daughter and I always learn new things as she gains independence. Thank you"
"This is a wonderful program helping our son learn self reliance and indepedence. He is so proud of himself! Thank you."
"Training was presented/managed in a way that was a perfect match for the participant's needs. I would not change anything based on this experience. Thanks!"
"[the instructor] has been an excellent trainer for all of our Deaf/Hard of Hearing students during the past two years."
"So impressed with the dedication and care. Very glad for this wonderful community service."
"Wonderful program. Made a real difference in my son's independence."
"[the instructor] does an absolutely spendid job - including working with kids who some may have never guessed Metro possible."
"[the instructor] is easily able to establish an excellent rapport with both the person she is training and their worried family. My son does an amazing job with Metro because of her!"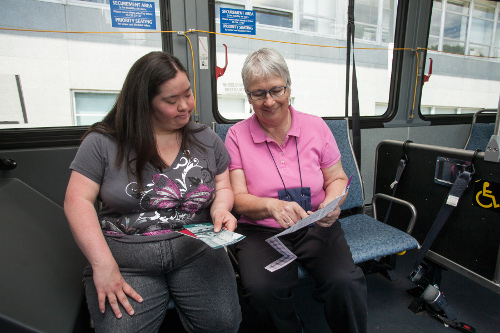 The goal of the Transit Instruction program is to facilitate the independence of Individuals with Disabilities and/or Senior Citizens by teaching them the skills required to utilize public transportation.
Learn More About the ADA
Get Involved
The King County Transit Advisory Commission provides suggestions and recommendations to the King County Department of Transportation on transportation services for elderly people and people with disabilities.
Connect with us
Email us »
By Mail:


Accessible Services
KSC-TR-0800
201 S Jackson St
Seattle, WA 98104