Access Transportation
Access takes you anywhere a Metro bus, Seattle streetcar or Sound Transit light rail goes at that time and on that day of the week. Access customers go grocery shopping, to work and school, to get their hair cut, to check in with their doctor, meet up with friends, or to enjoy a local park.
You can go any place – as long as the bus, streetcar or light rail goes there.
Find out more about the service.
Reservations can be requested 8:00 a.m. to 5:00 p.m. daily.
To request a reservation, call the Access Transportation Rideline
206-205-5000 (TTY Relay: 711)
Outside the Seattle metro area
1-866-205-5001 (TTY Relay: 1-800-833-6384)
You can request rides from one to seven days before the day you need to travel.
Requests for inter-county travel must be received by 3:00 p.m
Cancel early
Trips can be cancelled up to two hours before your pick-up window begins. No penalties. No questions. You can call us 24/7 to cancel. 206-205-5000 (TTY Relay: 711).
When you can't
Penalty points will be assigned. Calling us less than two hours before your window opens is considered late. After your pick-up window opens, a full point will be recorded. Still let us know if you can. Especially if you have other trips scheduled that day. But for those times when you can't — less than three points a month and you won't be penalized.
Penality Points
Time
0 points
Early cancel
More than two hours before the start of 30 minute pick-up window
½ point
Late cancel
Less than two hours before the start of 30 minute pick-up window
1 points
No-show
Within the 30 minute pick-up window*
*Cancellation or not boarding Access when the vehicle is at the correct location
Sometimes it is our fault
No penalty points will be recorded if it was our fault that you had to cancel your trip late or did not board the vehicle.
Review for suspension
If we have recorded three penalty points for you in a month, we are going to take a look at your trips.
We will look at each incident where points were assigned and make sure we have taken out any incidents where circumstances were outside your control. Then we will take the number of incidents and divide by the total number of scheduled rides. If it is 15 percent or higher, we will send you a proposed suspension letter.
Ride the Bus for Less
All King County Metro buses are accessible to customers with disabilities. Riding regular Metro bus service with a Regional Reduced Fare Permit will cost you less than riding Access.
One-way
All Zones
Access Fare (Adult or Youth)
$1.75
Personal Care Attendant
Free
Service Animal
Free
Pay your fare with:
Be prepared for fare inspections
Failure to pay may result in a citation and fine, RCW 35.58.580.

Monthly Passes
* Customers must contact Metro Customer Information before a monthly pass can be accepted as fare on Access. Passes are only available through the ORCA fare system.

A monthly Access pass on your ORCA card is also accepted as full fare on:
Access Customer Service is open 8:00 a.m. to 5:00 p.m. daily to assist you with your to concerns about Access service.
Contact Customer Service:
Would you like to know when your van is close? Access has options to help!
Advanced Call & Text
Access can give you a call or send you a text message before the van arrives to pick you up.
This service needs to be set up ahead of time with Access Customer Service.
To Activate:
Access ETA
Access can provide you real time trip information through our automated system.
Call Access at 206-205-5000 (TTY Relay: 711). At the main menu press 1 and follow the prompts.
Online (beta)
Use Access ETA to get your estimated:
Pick-up time - beginning 15 minutes before your pick-up window begins.
Drop-off time - after you've boarded the Access vehicle.
Rideline
Access dispatchers can provide you with detailed trip information.
Call Access at 206-205-5000 (TTY Relay: 711). At the main menu press 3 to speak with a dispatcher.
All times provided to customers are estimates and subject to change based on traffic conditions and other factors.
Holiday
Date
Service Level
New Year's Day
January 1, 2019
Sunday
Subscriptions Cancelled
Martin Luther King, Jr. Day

January 21, 2019
Weekday
Presidents' Day

February 18, 2019
Weekday
Memorial Day

May 27, 2019
Sunday
Subscriptions Cancelled
Independence Day

July 4, 2019
Sunday
Subscriptions Cancelled
Labor Day

September 2, 2019
Sunday
Subscriptions Cancelled
Veterans Day
November 11, 2019
Weekday
Thanksgiving Day
November 27, 2019
Sunday
Subscriptions Cancelled
Day after Thanksgiving
November 29, 2019
Weekday
Subscriptions Cancelled
Christmas Day
December 25, 2019
Sunday
Subscriptions Cancelled
Please note:
Except for dialysis and life-sustaining medical trips, all Subscription Service is cancelled as noted.
To schedule a ride for a holiday, contact the Access call center 1 to 7 days before you need to travel.
Other local transit agencies may not adhere to the same holiday schedule as Metro.
Visit other transit agencies' websites for their holiday information.
Service animals for persons with disabilities ride for free.
Service animals must remain on the floor without blocking the aisle or on their owner's lap. If this is not an option, the service animal may occupy a seat provided one is available.
If the service animal's behavior threatens the safety of the driver or other passengers the customer and their service animal may be asked to leave the bus.
Passenger safety
The transit operator, at his or her discretion, may not allow you to board with your pet if there is a concern for the safety or comfort of your fellow passengers.
Dogs & Other Pets
Dogs may ride at the discretion of the operator under these guidelines:
Drivers may refuse to transport a person and their dog if they already have another dog onboard.
Drivers may refuse to transport a dog if it is creating a hazard or disturbance.
Drivers may request the removal of a dog from the coach if it creates a hazard or disturbance.
All dogs that are not service animals must be on leash.
Dogs are not allowed to occupy seats; they must remain either on the floor or sit on their owners lap.
Small dogs who remain on their owner's lap ride for free. All other dogs pay the base fare (or reduced fare) paid by the customer accompanying the dog.

Note: Animals other than dogs are not allowed on the coach unless they are in a container or carrier. Fare is not required.
When snow or ice is predicted, find out how Access may be affected:
Check for Metro Alerts
Call us: 206-205-5000 (TTY Relay: 711)
Listen to local news announcements
If Access service is suspended:
Vehicles may still be available for emergency services
Access will make every effort to provide service to customers when notified of an essential trip
Staff will make the final decision about whether a trip can be provided safely
The following enhancements to Access Transportation service are available to persons registered for Metro's ADA Paratransit Program:
Reservations available up to seven days before your trip.
Subscription service for persons going to or from the same locations at the same times at least once a week.
Vehicle arrival notifications via automated phone call or text message.
Expanded service area available from 9 a.m. to 6 p.m. Monday through Friday.
Expanded Rural Service extends service to several rural areas of King County. Eligible riders can travel throughout the rural areas on weekdays between 9 a.m. and 3 p.m.
'Hand-to-Hand' service for persons who are unable to be left alone is available on a limited basis.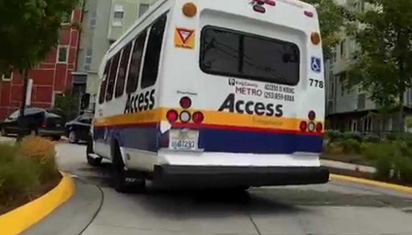 Eligibility
You must be found eligible for the ADA Paratransit Program before you can request rides on Access.
We're improving Access Transportation
Follow our progress and learn about how we're working to improve Access.
Learn More About the ADA
Connect with us
Email us »
By Mail:


Accessible Services
KSC-TR-0800
201 S Jackson St
Seattle, WA 98104