Parking Calculator
The King County Right Size Parking Calculator is a map-based web tool that lets users estimate parking use for multi-family developments, in the context of specific sites. The calculator can help analysts, planners, developers, and community members weigh factors that will affect parking use at multi-family housing sites. It will help them consider how much parking is "just enough" when making economic, regulatory, and community decisions about development.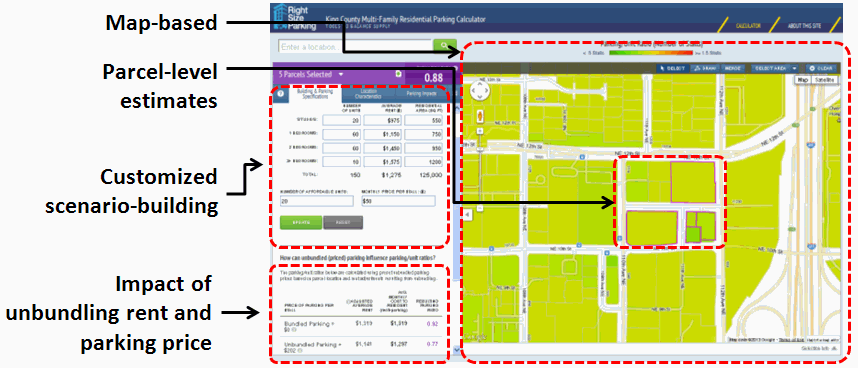 The Calculator is based on a model using current local data of actual parking use collected in 2012 at over 200 developments in urban and suburban localities in King County, Washington. The parking use data is correlated with factors related to the building, its occupants, and its surroundings- particularly transit, population and job concentrations. The user adjusts the scenario using variables related to the building and its location, including proximity to transit, jobs and population. Understanding the influence of these variables helps determine how much parking is "just enough" for a particular site.
While it is intended to help support and guide parking supply and management decisions, it should not be viewed as a definitive answer. Rather, it should be seen as a resource to inform discussions, weigh the factors impacting parking demand, and help consider the proper provision of parking.
You can access the calculator at: www.rightsizeparking.org
Who will benefit?
Developers, public decision makers, and communities will all benefit from the outcome of this project. With updated context-sensitive information on parking demand, cities can regulate development in way that meets local and regional goals and developers can build more housing near transit and sell it for less.
Contact us
Metro Transit Division
King County Department of Transportation
KSC-TR-0411
201 South Jackson Street
Seattle, WA 98104-3856
Daniel Rowe
Market Development, Service Development
Send Daniel an email
or call 206-477-5788
We would like to thank the following partners: