Introduction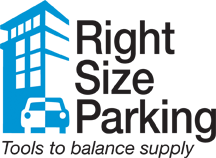 Over-building of parking supply leads to increased automobile ownership, vehicle miles traveled, congestion and housing costs. In addition, it presents barriers to smart growth and efficient transit service. King County Metro has an interest in encouraging land uses, policies, and development that overcome these barriers and lead to communities that transit can serve efficiently and effectively. Parking supply and pricing often have a direct impact on jurisdictions ability to create compact, healthy communities.
By providing locally credible and context-sensitive data on parking demand, our region has the opportunity to:
Support economic development by reducing barriers to building mixed-use multi-family residential developments in urban centers near transit infrastructure;
Reduce housing costs as well as household monthly expenditures allowing a larger demographic to participate in the urban, infill housing market;
Encourage use of transit, rideshare, bike and walk;
Reduce vehicle miles traveled (VMT) and greenhouse gases (GHG).
King County Metro has been awarded a grant in the FHWA Value Pricing Program to address the issues around multi-family residential parking supply in King County. The project will assemble local information on multi-family residential parking demand to guide parking supply and management decisions in the future. The project will also incent jurisdictions and developers for actions to reduce parking supply or to manage the supply through a range of tools.
Who will benefit?
Developers, public decision makers, and communities will all benefit from the outcome of this project. With updated context-sensitive information on parking demand, cities can regulate development in way that meets local and regional goals and developers can build more housing near transit and sell it for less.
Contact us
Metro Transit Division
King County Department of Transportation
KSC-TR-0411
201 South Jackson Street
Seattle, WA 98104-3856
Daniel Rowe
Market Development, Service Development
Send Daniel an email
or call 206-477-5788
We would like to thank the following partners: