Introduction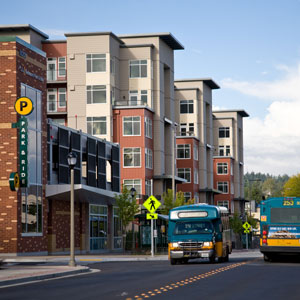 The ORCA Multifamily Development Passport is an annual transportation pass that property owners can offer to residents. This pass gives residents comprehensive access to transit services in the Puget Sound Region, including local and express bus service, Link light rail, Sounder commuter rail, Seattle Streetcar, and some passenger-only ferry services.
How does it work?
Participating multifamily property owners and managers purchase Passport-loaded ORCA cards to offer to their residents. The pass must be offered to every residential unit.
Residents may use the card for whichever forms of transit suit them, whenever they want! The ORCA Passport offers commute flexibility and convenience for errands and other local trips. The program, however, does not cover fares on Washington State Ferries.
The cost for the first year of the program varies based on the existing transit use in your neighborhood. Subsequent years are priced based on the amount residents used transit in the previous year. Please contact us to get specific pricing for your buildings(s).
Contact us
Metro Transit Division
King County Department of Transportation
KSC-TR-0411
201 South Jackson Street
Seattle, WA 98104-3856
Daniel Rowe
Market Development, Service Development
Send Daniel an email
or call 206-477-5788