Introduction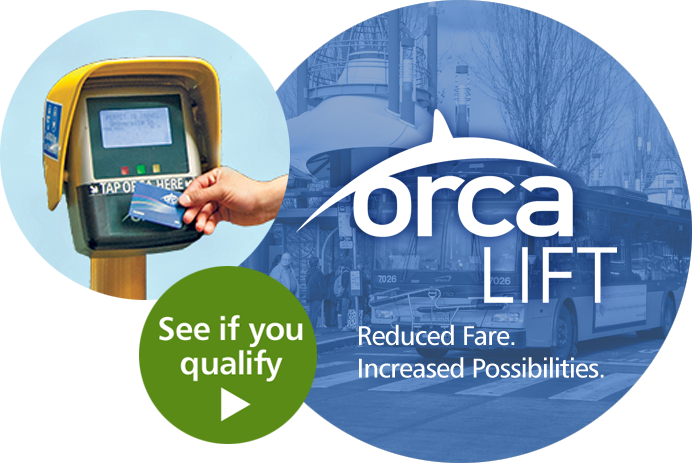 Get where you need to go. Pay a lot less to get there.
Now there's a more affordable way to get to work, school, shopping, day care or anywhere else you need to go. It's ORCA LIFT, a new, reduced transit fare that can help you get more out of your public transportation system.
Once you qualify for the ORCA LIFT program, you'll receive an ORCA LIFT card registered to your name, with the same features every ORCA card has. You can load an E-purse value on your card to pay for trips one at a time, or load a discounted monthly pass that lets you take unlimited trips for an entire month. But what makes ORCA LIFT special is you have all the power and convenience of the ORCA card system at a fraction of the cost.
With the ORCA LIFT card, income-qualified riders can save up to 50 percent or more on:
Metro Transit buses
Kitsap Transit buses
Sound Transit Link light rail
Sound Transit Regional Express buses
Sounder Trains
King County Water Taxi
Seattle Streetcar
Just like any regular ORCA card, load E-purse value or a monthly pass on your card before you start to use it.
Visit any of the ORCA revalue locations around King County to load your card.

King Street Center Metro Customer Service Office
Westlake Station, Downtown Seattle Transit Tunnel Metro Customer Service Office
Any ticket vending machine in the Downtown Seattle Transit Tunnel, Link light rail stations, and some transit centers
Any ORCA card retailer

Pay two ways:

Load a monthly PugetPass for unlimited rides during that month—a good choice if you use the card all the time.
Use the E-Purse to load between $5 and $300 on the card—a good choice if you use the card only occasionally.

Tap the card reader when you board.
Go where you need to go!
How much will I save?
You'll pay only $1.50 per trip, any time of day, for one-or two-zone travel on Metro Transit buses, Sound Transit Link light rail, and the Seattle Streetcar. Kitsap Transit bus trips are $1.00.
So, if you took two bus trips a day, five days a week on Metro Transit across two zones during peak hours, you could save as much as $910 per year.
What about the King county Water Taxi?
ORCA LIFT fares on the King County Water Taxi are $3.00 for West Seattle/Downtown Seattle and $3.75 for Vashon Island/Downtown Seattle per trip.

Household income amount
People with household income of less than double the federal poverty level (as established by US Health and Human Services Department) qualify for ORCA LIFT.
| Household Size | Maximum Income to Qualify* |
| --- | --- |
| 1 | $23,760 |
| 2 | $32,040 |
| 3 | $40,320 |
| 4 | $48,600 |
| 5 | $56,880 |
| 6 | $65,160 |
| 7 | $73,460 |
| 8 |  $81,780 |
Enroll Today!
If you think you qualify, visit one of the authorized ORCA LIFT enrollment offices with your income verification documents. The process takes just minutes. The office will confirm your eligibility, officially register you, and give you your free ORCA LIFT card.
Reduced Fare.
Increased Possibilities.
Presentations Available
ORCA LIFT program presentations are available on site at your organization. E-mail your requests here.
Please include:
Name of your organization
Audience
Type of information you would like presented
Preferred date and time of presentation
Your contact information
Questions?
Hearing Impaired/TTY Relay call: 711