« Back to Alternative Services
Help Metro shape transportation services in southeast King County
No "one size fits all" approach to transit can meet every community's needs. So we're working with communities in southeast King County to find transportation options that will be more cost-effective—and better meet the needs of residents and riders—than regular bus service. In April, we asked for feedback about how people are using transit service, what barriers to using service they experience, and how service could be improved. Then, we worked with local partners to design some concepts that might help address some of the needs people told us about. After listening to public feedback about these concepts in May, we've identified a set of changes we're moving forward with.
This September, we're adding a trip in the evening to Route 186, leaving Auburn Station at 7 p.m.
Why: Adding service later in the evening addresses one of the most common requests we heard during Phase 1 outreach. Savings from adjusting our routes to accommodate Sounder service changes in September 2015 means Metro can add this trip at no extra cost.
We're developing an Emergency-ride-home program.
For riders who miss their connecting routes in Renton or Auburn in the evenings or weekends when fixed-route service is not available, this service could provide the last leg of the trip to get them home. The service could be provided by Metro TripPool vehicles stationed at transit centers; by taxis; or by Transportation Network Companies (e.g., Uber or Lyft). Riders would need to be pre-registered in the program.
Why: Some residents may already have access to Metro's guaranteed ride home program through their employer or Metro vanpool, but many do not. Since fixed-route service ends in the early evening, a missed connection can leave riders stranded in Renton or Auburn with no way to get home. We heard this concern shared by current riders during Phase 1 and 2 outreach.
We're partnering with Covington, Maple Valley, Black Diamond, and Enumclaw to provide connections between and within these communities.
Metro is partnering with a local provider(s) with resources to staff a mobility coordinator, and vehicles that the partner would operate. Trips will be determined by the communities served.
Why: The Greater Maple Valley Community Center stopped running its Southeast Regional Shuttle service in 2014 after state grant funding was cut. Many residents in the Maple Valley and Covington communities gave us feedback that they would like the service to be revived. Because these and nearby communities are close together and have many transit-dependent riders, a community-sponsored service could be a good way to provide important trips during the day.
We're promoting Metro VanPool, Vanshare, and TripPool.
We are working with local partners to increase ridesharing with new outreach, education, and incentives. Metro is partnering with interested cities to develop specific program approaches designed to meet community need.
Why: More than half of survey respondents said they would be interested in trying a Metro Vanpool or Vanshare. Due to limited fixed-route service in the area and long travel distances, ridesharing could be a good option for commuters traveling to the same destinations—for example, employment centers like South Lake Union, Issaquah, or Redmond. Ridesharing programs are great for commuters and the region. Commute times can be shorter with parking and HOV lane options, transportation spending can be lower by saving on fuel, maintenance, and parking costs, and environmental benefits for Puget Sound can be seen in pollution reduction.
Phased DART Route 907 and Route 915 Change Proposal (Option C)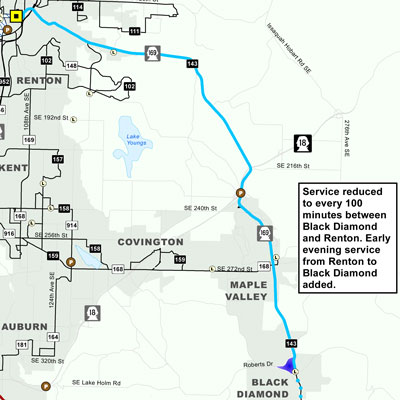 View map for details
Option C, the preferred alternative identified during our previous Phase 2 outreach to change the Route 907 would include the following two phases:
Phase 1 – March 2016
Invest 2,070 annual service hours in DART Route 915 to provide hourly service on weekdays between Enumclaw and Auburn. Service would be funded by the Alternative Service Delivery program budget between March and September 2016.
Implement a program to distribute ORCA fare cards and educate riders to help Enumclaw residents make use of transfers between Metro and Sound Transit service in Auburn.
Phase 2 – September 2016
Shorten the Route 907 to operate between the Renton Transit Center and Black Diamond.
Use one DART van on the shortened Route 907, with service about every 100 minutes (saves 2,410 annual service hours).
Funding for the added Route 915 service starting in March 2016 changes from the Alternative Service Delivery program to cost savings achieved from shortening Route 907.
Remove the current Route 907 DART deviation area in Renton.
Add one early evening trip from the Renton Transit Center to Black Diamond.
Add a new southern extension of Route 915 from Griffin Avenue and Wells Street to McDougal Avenue (the Enumclaw part of current Route 907).
Implement an alternative service connection between Black Diamond and Enumclaw.
Why Change DART Route 907 and Route 915: The Route 907 operates between the Renton Transit Center and Enumclaw along State Route 169 and is one of the lowest-performing DART routes in Metro's system. The portion of the route between Black Diamond and Enumclaw has very few riders with just over one rider per trip on average.
In contrast, the State Route 164 corridor between Auburn and Enumclaw, which is partially served by the Route 915, is identified as 'underserved' according to Metro's Service Guidelines. During this project's outreach, many Route 907 riders told us their destinations were beyond Renton, and that the Route 915 to Auburn is also an option for them, but they saw the additional cost of paying cash for a transfer to Sound Transit as a barrier.
Based on this initial feedback, Metro developed a fixed-route concept (called Option C) to shorten the Route 907 so it terminates at Black Diamond instead of Enumclaw, and then reinvest the service hours to better meet rider needs in the corridor. In Phase 2 of outreach, Option C was the preferred alternative in a public survey. On June 9, the project's stakeholder working group also recommended that Metro proceed in changing the Route 907 according to Option C.
How did public input shape these changes?
Read our report summarizing feedback received in two phases of outreach earlier this year.
Why we're doing this
Southeast King County is the second of several rural areas where Metro is shaping future service according to the county's adopted alternative services plan. The plan is a framework for what fixed-route bus service—and also potential alternatives to this costly service—might look like in less-populated areas of the county as Metro seeks ways to get the most out of every available transit dollar.
In addition to regularly scheduled bus service, Metro provides alternative services like community vans, Demand Area Response Transit, and a variety of Vanpool and Vanshare options. Learn more »
Timeline
We're collaborating with local jurisdictions and stakeholders to develop ideas for better meeting mobility needs in southeast King County.
April 21 – May 5, 2015

Outreach phase 1: Gather input from the public on transportation needs and ways we might meet those needs.

Mid-May 2015

Use the input received to develop some alternative service concepts.

Late May 2015

Outreach phase 2: Share alternative concepts with the public and gather feedback on how those concepts might meet the needs identified in phase 1.

June 2015

Choose idea(s) that will best meet everyone's needs.

July – Dec. 2015

Design community van and other alternative service options for implementation when ready.

Sept. – Oct. 2015

King County Council considers increasing the frequency of Route 915.

Fall/Winter 2015

Outreach phase 3: Share the results of this process with the public, along with next steps for implementation.

March 2016

If adopted, increase frequency on Route 915 to come every hour.

Spring 2016

King County Council considers routing and service level changes to DART Route 907 and Route 915—contingent on the establishment of an alternative service to meet the needs of transit riders traveling between Enumclaw and Black Diamond.

Sept. 2016

If adopted, shorten and reduce the frequency of Route 907, extend Route 915 to cover routing of the Route 907 in Enumclaw.
Información importante sobre el servicio de autobuses de su zona
Para solicitar esta información en español, sírvase llamar al 206-263-9988 o envíe un mensaje de correo electrónico a community.relations@kingcounty.gov.
County Council next steps
King County Council will consider Metro service changes in late August, early September. View the Council website for details and scheduling.
Contact us
DeAnna Martin
Community Relations Planner
Send DeAnna an email
or call 206-477-3835