Metro's funding shortfall
Metro service is funded primarily by sales tax, and the economic downturn that started in 2008 caused a significant reduction in Metro's revenue from this source. We have taken action to make up for the lost revenue and preserve most bus service:
Between 2009 and 2013 we have cut costs, increased operational efficiency, raised fares and tapped other funding sources. These actions have saved $798 million, preserving most bus service between 2009 and 2013. Many of these steps will continue to save a total of about $148 million every year.
Since 2011, when the county adopted service guidelines for Metro that emphasize productivity, Metro has followed the guidelines to restructure large parts of the transit system.
Metro is implementing business process improvement programs and Lean events.
Guided by King County's Energy Plan and Strategic Climate Action Plan and Metro's Sustainability Plan (to be posted soon), Metro has lowered energy and water consumption and has reduced waste disposal by reusing and recycling more, cutting or avoiding costs.

These actions are detailed below.

While many of the actions are resulting in continuing or new savings, some were only temporary or one-time measures that run out in mid-2014. Metro faces an ongoing budget gap of up to $75 million.

Metro originally planned to reduce service by 645,000 annual hours—600,000 hours system-wide, plus an additional 45,000 hours to address the anticipated loss of state funding that supports added transit service in corridors affected by the Alaskan Way Viaduct Replacement Project.

We have revised this proposal to reduce service by 550,000 annual service hours instead of 645,000. This change reflects improved sales tax revenue collections and the 2014-15 tax revenue forecast developed by the King County Office of Economic and Financial Analysis in March, as well as a commitment from the state to continue funding extra Metro service to mitigate Alaskan Way Viaduct construction impacts through 2015. That funding will sustain some of the transit services—primarily in West Seattle and southwest King County—that were slated for reduction or deletion in our initial service reduction proposal.

At the same time, some lower-performing routes that were originally identified for reduction or elimination in June 2014 are still slated for cuts in September 2015.

The King County Council is now considering a recommended set of service cuts. Service cuts would begin in September 2014, with more to follow in 2015.
Metro's strategic plan sets a goal of costs growing at or below the rate of inflation. Between 2008 and 2012, Metro's average annual increase in costs was 2.4 percent—about the same rate as inflation. While sales tax collections are expected to return to the 2008 level in 2014, the purchasing power of those funds in 2014 is not the same as it was in 2008. An analysis prepared by King County's Office of Economics and Financial Analysis shows that using 2013 dollars, sales tax collected in 2013 is $58 million lower than 2007.
Factors contributing to the increase in Metro's operating costs include the following:
Higher levels of bus service.

Since 2008, bus service has grown by 4 percent, largely from the addition of RapidRide, SR-520 and Alaskan Way Viaduct Mitigation services. These higher service levels increase program costs and support ridership growth.

Increase in the costs of the federally mandated paratransit program.

Costs for paratransit services, which are mandated by the Americans with Disabilities Act, have grown by 25 percent since 2008. Metro contracts out all paratransit services via competitive bids.

Security costs

have grown by more than 80 percent since 2008. These include the costs of enhanced security in the tunnel, increased policing, and fare enforcement activities.

Insurance and risk management costs

have increased by more than 60 percent since 2008.

Older buses.

We have extended the life of our fleet and deferred some bus replacements until service reductions occur or sustainable funding is available to support replacement. Older vehicles are more expensive to operate and maintain.

Inflationary increases

to the cost of materials and utilities have increased Metro'scosts since 2008.

Changes in the way vendors provide systems.

Where previously we purchased systems as a capital cost, vendors have shifted to models that include more annual costs such as licenses and maintenance fees. While operating costs have increased, capital program costs have declined.

Wages and benefits

have grown by 10 percent since 2008.

Pension costs have increased by more than 40 percent.

Pension contribution rates are set by the Washington State Legislature.

Other revenue-backed activities

have also increased Metro's total costs, most notably the start of Link light rail service in 2009. This service is provided under contract with Sound Transit. Although Sound Transit reimburses Metro for the costs, Metro's program expenses include these costs.
Metro has taken (and is still taking) actions to control these costs—see details below.
Actions taken to preserve service
Changed the way we plan schedules so we use fewer buses to deliver the same amount of service. Scheduling and other efficiency steps recommended in a 2009 performance audit are saving more than $20 million annually.
Negotiated agreements with employees to waive a cost of living increase in 2011 and reduce the future rate of wage growth. These actions saved $36 million for 2011-2013 and $17 million annually going forward.
Cut more than 100 staff positions and reduced programs that don't directly affect service, saving $14 million per year.
Saved health care costs through the County's employee health program—$10 million for 2007-2011.
Cut $180 million from the capital program, which pays for buses, shelters, and buildings.
Shelved most plans to expand bus service, but continued developing voter-approved RapidRide service because it is highly productive and has received about $120 million in grant funding.
Following the recommendation of a public advisory committee, changed the way we plan service to emphasize productivity, geographic value, and social equity. Using this new approach along with more efficient scheduling that saved 120,000 service hours, we cut 75,000 hours of the least productive bus service and reinvested 100,000 hours in more productive service. These actions have resulted in higher ridership and fare revenue, generating about $8 million annually.
Raised fares four times in four straight years—a total 80 percent increase generating $35 million annually.
Ended free rides in downtown Seattle, expected to raise $2 million or more per year.
The county approved a property tax that is providing $18 million annually for bus service, while reducing other property taxes so taxpayers don't pay more.
Reduced the bus replacement reserve fund by $100 million, as recommended by the performance audit, and used the funds to support bus service.
Used half of the operating reserve fund to support service.
The county adopted a temporary $20 congestion reduction charge on vehicle license renewals, raising about $50 million over two years (expires in mid-2014).
Conducted a Vehicle Maintenance Base Automation Pilot Program at two base locations, resulting in the reduction of one position at each base (saving $100,000 annually at each) and improving worker productivity (e.g. a 49% improvement in work order completion time at one location and a 28% improvement at the other). Savings are expected to grow as employees become accustomed to new work processes and as the program is expanded to all other Metro bases in 2014.
Began using online employment applications that enable Metro to process twice as many applicants with the same number of employees.
Consolidated electronic personnel records with the aim of increasing security, improving access, allowing queries and disaster recovery, and using less office space.
What is Lean?
Lean is a way of thinking and a set of tools for maximizing customer value while minimizing waste. King County is using Lean with the intent of continuously finding better ways to work and deliver better results for the public.
Began using online employment applications that enable Metro to process twice as many applicants with the same number of employees.
Made Family Medical Leave administration improvements—for example, eliminating paper attendance cards and instead using the HASTUS transit management software. Results include less staff time needed for some procedures and fewer errors in personnel records. This project is profiled on the King County website.
Improved ORCA Business Passport contract renewal processes for more than 800 businesses that sell ORCA passes. For example, the project resulted in a 20-percent reduction in renewal cycle time.
Recently started a Lean project for Metro's Vehicle Maintenance section that has the goal of reducing bus parts inventory and inventory costs.
Reduced energy use at Metro facilities by 13% between 2009 and 2012. Facility energy conservation efforts helped Metro avoid approximately $170,000 in energy costs in 2012, equivalent to a 7% savings.
Metro has received or will receive a total of $1.8 million in utility incentives for energy conservation projects initiated in 2007 through 2013. Estimated annual electricity and natural gas savings are 4.9 million kWH and 275 Therms.
Examples of projects:


In 2013, replaced ventilation fans at North Base that are projected to save approximately 2 million kWh per year, equivalent to $116,000 in annual savings.
In 2013, upgraded lighting at Downtown Seattle Transit Tunnel stations for an estimated annual savings of 477,000 kWh and $30,000 in energy costs. Metro is continuing the lighting efficiency program in the tunnel and at transit facilities and park-and-rides.

Reduced energy use between 2009 and 2012 by transit service vehicles by 4% per mile. In 2012, transit service vehicles traveled over 59 million miles.
Reduced solid waste by 394 tons in 2012 compared to 2003, avoiding approximately $66,000 in waste disposal costs.
Reduced water consumption by 14,264 CCF in 2012 compared to 2009, avoiding approximately $276,000 in water costs.
Since 2009, the majority of transit agencies across the nation and the region have seen their revenues affected by the economic downturn. Metro has maintained roughly the same level of service by cutting costs, improving the efficiency of operations, and increasing revenue. Metro is planning to reduce up to 17 percent of its service starting this year after some savings and temporary funding run out. Increasing sales tax revenue will close a portion of Metro's $75 million funding gap and enable Metro to preserve some of the service it has proposed to cut.
Other transit agencies in the region have reduced service since 2009. Pierce Transit cut service by 37 percent between 2009 and 2012. They were considering an additional 28 percent service reduction for September 2013, after voters rejected a proposed sales tax increase for the agency in November 2012. Higher than expected sales tax revenues in 2013 have allowed them to delay cuts and keep service at the current level.
Community Transit made cuts in 2010 and 2012, reducing service by 37 percent below their previous level. With increasing sales tax revenue, they announced in March that they are planning to restore 20 percent of the service hours that were cut over the next six years.
Among 30 of the largest bus agencies nationwide, 23 decreased the hours of bus service provided between 2008 and 2012. (Some may have redeployed resources to non-bus modes such as light rail.)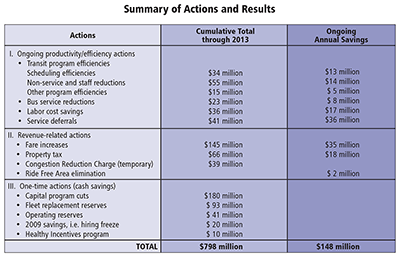 Related Info Sheets