Service Cuts
Choose an area on the map to view examples of Metro service cuts and route changes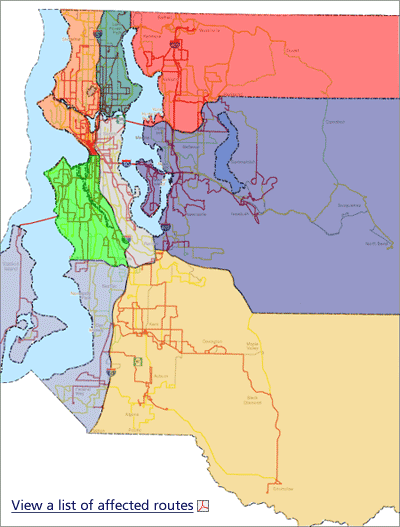 If the congestion charge is not approved, a series of reductions in bus service would take place in 2012 and 2013. A total of up to 600,000 annual service hours, or 17 percent of the current Metro system, could be eliminated.
King County Executive Constantine has submitted a package to the council that includes the first round of service cuts — a 100,000-hour reduction that could go into effect as soon as February 2012. Additional reductions would be made later in 2012 and 2013, unless new revenue becomes available.
How the service cuts could occur
How does Metro decide where to reduce service?
Service reductions will be based on guidelines in Metro's new Strategic Plan for Public Transportation, which was recently approved by the King County Council. The service guidelines reflect the consensus recommendations of the Regional Transit Task Force, which was formed by the County Council and Executive to propose a new policy framework for Metro. The task force recommended that Metro should emphasize three things:
Providing productive service that carries more people per hour
Serving communities that depend heavily on transit
Distributing service fairly throughout the county