Overview
Metro's ESMS is a management system of programs and procedures that helps us reduce the environmental impact of our daily operations.
The basic elements of an ESMS are:
Analyze environmental impacts and legal requirements
Set and review environmental goals
Set objectives and targets
Establish programs to meet objectives and targets
Monitor and measure performance
Ensure that employees are aware of environmental requirements
Establish standard operating procedures and best management practices
Continually review and improve our environmental performance.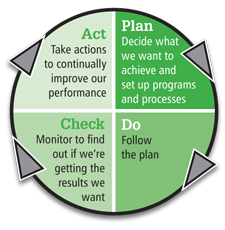 Metro's ESMS aligns with the 14001 standard of the International Organization for Standardization (ISO). The ISO 14001 Standard uses a method of continual improvement called "plan-do-check-act."
Plan: Establish objectives, programs and processes to deliver results consistent with Metro's environmental policy
Do: Carry out the programs and processes
Check: Monitor and measure progress and report the results
Act: Take actions to continually improve performance towards objectives and targets
The following are some of the benefits we expect from the ESMS:
Reduce our risk of harming the environment
Make our facilities healthier places to work
Reduce operating costs
Continually improve our performance towards our environmental goals
Initially, the ESMS will apply only to Metro's South Base and Component Supply Center in Tukwila. South Base is the transit base where buses serving south King County are cleaned, fueled and repaired and where drivers are dispatched. The adjacent Component Supply Center is where major rebuild and repair for Metro's entire bus fleet takes place. In the future, the ESMS may be expanded to include other transit facilities.
The ESMS at South Base/CSC is focusing on four aspects of south complex operations that can have significant impacts on the environment:
Chemicals: Reduce the environmental impacts of the chemicals used
Spill control: Prevent or reduce the environmental impact of spills
Electricity: Reduce electricity consumption
Natural gas: Reduce natural gas consumption
The ESMS is administered by a South Base/Component Supply Center Fenceline Advisory Committee. This team is supported by senior management and guided by the ESMS Core Team. Ad hoc task teams are composed of managers and employees.
Members of the public may contact the ESMS program through Metro's contact page