Snow, Ice & Flood Alerts
Use the selection menus to filter the list:
| Route | Area | Reroute Location | Information | Service | Map |
| --- | --- | --- | --- | --- | --- |
| Route | Area | Reroute Location | Information | Service | Map |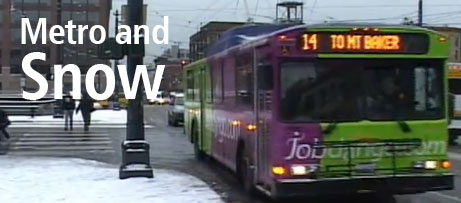 Are you ready for winter?
Each year, Metro prepares for winter weather by planning alternate bus routes for snowy conditions, maintaining communication tools to keep riders informed about weather-related service changes, and having an Emergency Service Network (ESN) that operates during the most severe conditions. This guide will help you learn how you can get the most out of Metro's winter weather preparations. We want to get you where you're going safely!
Learn more: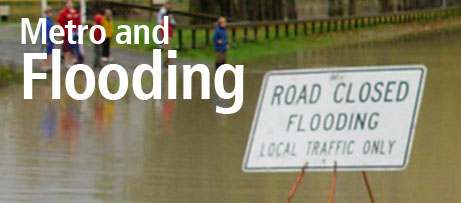 Service in flooded areas
In the event of flooding in any part of King County, Metro Transit service may be disrupted in affected areas.
Should flooding occur in the Green River Valley — or anywhere in Metro's service area — check for announcements on the King County and Metro Online home pages, and also visit the King County Emergency News.
Learn more about flooding:
Service Area Map
Central Seattle
East King County
North King County
North Seattle
South Seattle
Southeast King County
Southwest King County
The King County Department of Transportation is providing this information as a service to the general public. While every attempt is made to provide accurate and timely information, estimates of the nature and duration of any particular route change or other event are subject to conditions beyond the control of King County and are difficult to predict. Those relying on this information should do so at their own risk, and neither King County nor any of its employees or agents shall be liable for the accuracy of this information or any actions taken as a result.